Jörg Arfert – You Touch My Soul/Autumn In New York - Single
Pop/Folk – Release date: 2013-08-30 / Catalog no.: ppt60093 / Format: Download-Single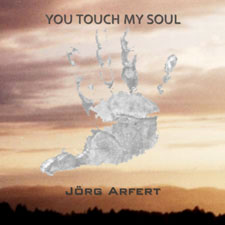 Every year on September 11th the world holds on to remember the victims, who have died or seriously been injured during the terror attacks of 2001 in the USA. Especially the death of a four years old girl and her mother, who have been travelling in one of the hi-jacked air planes, which crashed into the World Trade Center buildings, has moved the German-born composer Jörg Arfert deeply.

The excellent guitarist and graduated music pedagogue was not only teaching children to play their instruments at the time of the terror strike, he also is the loving father of a daughter – recently born at that time – and an older son. The fate of these victims didn't let the family man Jörg Arfert alone and he formulated his thoughts and his grief into these lyrics. Subsequently he wrote the music and recorded this single with the help of a few renowned international professional musicians in the circle of his friends. This song is his modern requiem to commemorate the victims.
available on these platforms (and many others):
Apple Music / iTunes
|
Amazon.com
|
Amazon.de
|
Google Play
|
Spotify
|
Deezer
|
Napster
|
eMusic
|
JUKE!
Tracklist:
1. You Touch My Soul (Radio Version)
2. Autumn In New York (Radio Version)
3. You Touch My Soul (Extended Version)
4. Autumn In New York (Instrumental Acoustic Guitar Version)
Tags:   new york soul touch rnb pop rhythm n blues september autumn music download streaming mp3 guitar vocals inspirational in memory in memoriam